The Cruising Life
Best Definition of Cruising:
"Fixing your boat in exotic places"
Here are a few of our favorite things from The Cruising Life
The Cruiser's Code
Cruisers are different. After a few months, we've observed these rules that people seem to follow while out there.
The Cruiser's Troubadour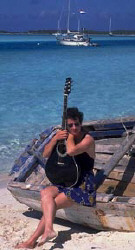 Eileen Quinn is a Canadian cruiser who has taken to composing and singing ballads that capture the true spirit of cruising. Her website is www.eileenquinn.com, where you can learn more and also buy her CDs. Click on the following titles to hear a few of her songs (some of these are big files, so be patient):
My Old Job (0.3 MB; a good sample)
If I Killed the Captain
What Do You Do All Day?
Speedboat Babe
Three Days Out Forty-Five Knot Wind Blues
You know you're a cruiser . . .
You know you're a truly committed long-term cruiser if:

Laundromats I Have Known
Signe becomes a connoisseur of the mundane.

Our Boat Name Collection
Some people collect Beany Babies or beer cans, but we've spent ten years collecting something stranger: boat names, both intriguing and tacky. Have fun!