Raven


Raven is a Steve & Linda Dashew-designed Sundeer 64, built in 1994 by TPI of Newport, Rhode Island. She's the last of ten 64s

built, and probably in the best shape of them all. Jan studied the Dashews' books and designs for years, and when we were thinking seriously about offshore cruising, we really wanted

a Sundeer. It wasn't easy to find one, though, as they generally don't stay in marinas: most are out cruising somewhere exotic. These aren't boats for Saturday afternoon cocktail parties; they're built to take a middle-aged couple (that's us) anywhere

in the world they want to go. They are fast, strong, powerful, and have lots of features to make them safe and easy to handle for a short-handed crew. To learn more about the Sundeer 64 series, you might read the Dashews' Offshore Cruising Encyclopedia. Required reading for cruisers.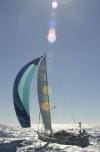 Here are a couple of favorite spinnaker shots, taken from Richard Spindler's big catamaran Profligate (thanks to Latitude 38 magazine).

On the right is a photo of Raven soon after we bought her in 1998 from the first owner. We anchored on a glorious fall afternoon at Sucia Island in the San Juan Islands, Washington. That's Mt. Baker in the background, 60 miles away.

Specs
Waterline length 64 feet
Overall length 64 feet 11 inches
Beam 15¼ feet
Draft 6½ feet
Rig Cutter (mainsail, jib, staysail)
Working sail area 1,723 square feet
Mainsail 1,065 square feet
Jib 652 square feet
Reacher 1,321 square feet Raven reaching
Spinnaker 2,125 square feet (!!) at 10½ knots
Engine 140 hp Yanmar (Click photo to
Generator Fischer-Panda 4 kW DC enlarge it)
Fuel capacity 350 gallons
Fresh water capacity 600 gallons (carried in side ballast tanks)
Reverse Osmosis Watermaker 40 gallons per hour (1,000/day)
Reverse Osmosis Winemaker 5 bph (Merlot) to 3 bph (Chablis)
Speed under power 9½ knots
Speed under sail Max so far 13 knots sustained (16 peak)
Range under power 1,000 to 2,000 miles (slower = farther)