Cruising Aboard Raven
Latest news: Raven has been sold!
We are cruising sailors and this website helps us keep in touch with family, friends, and other cruisers. People have been kind enough to say they enjoy our photos and logs, so we'll keep doing them. After two years in Mexico, we spent a glorious seven months in 2002 cruising the South Pacific to New Zealand. We saw the America's Cup and toured New Zealand by car in 2003, and cruised Fiji in 2004. Unfortunately, family health issues have forced us to curtail our cruising life, at least for a while, so we reluctantly decided to sell Raven. Happily, she was bought by an enthusiastic couple, friends of Steve and Linda Dashew, who plan to cruise the South Pacific. We're certain they will enjoy cruising aboard her as much as we have.
— Jan & Signe Twardowski

Follow our cruises using the Log Books. Since 1999 we've cruised over 12,000 miles, including Alaska, California, Mexico in 2000-1 and 2001-2, and now the South Pacific. Our favorite definition of cruising is "Fixing your boat in exotic places." Read our logs and see why it's true. Cruisers never really have firm plans, so our Cruising Plans page is as close as we get.

Photos We take lots of digital pictures. Lots. And some of them aren't too bad, if we do say so ourselves. See what you think about the Alaska, Mexico, and Pacific collections.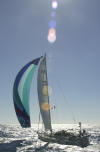 Raven She's a Sundeer 64 cutter. If you want to know what that means, go to this page.

Crew We're just a normal, middle-aged couple who decided to run away from home for a while. No, we don't know why.
This page was last updated on 12/27/04.