San Miguel de Allende
Una escuela de espa˝ol y dos fiestas
September 19-30,2001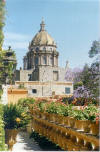 No we weren't cruising -- San Miguel is way inland and 6,000 feet up in the mountains -- but we've had so much fun we have to tell you about it. We've felt a bit lame in Mexico, being able to speak only pidgin Spanish ('Dos mas cervezas, Ernesto, por favor."), so we wanted to learn a bit more. The right way to do it is to spend six months or more in total immersion, but we don't have that much time and had to settle for a couple of weeks. Our trip was delayed a few days by the airline chaos after the terrorist attacks of September 11th, but we were determined not to be frightened out of traveling. (Many Mexicans wore red, white, and blue ribbons in solidarity with the Americans in town.)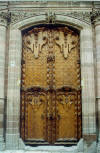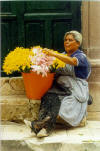 San Miguel is a beautiful town way up in the central Mexican highlands, the heart of colonial Mexico. Most of its colonial architecture is intact and has been or is being restored: cobblestone streets, architecture as in Spain, with homes hidden behind walls, centered around glorious courtyards. Lots of gringos began to settle here after WWII, and now account for about five percent of the population.

They, as is usual with americanos in Mexico, run several volunteer organizations, including the public library which supplies dozens of schools in the region with books.

Our profesora de espa˝ol, Adela Sanchez de Cueva, was recommended by a friend and, boy, was she excellent. She's far and away our best language teacher ever, y muy simpatica tambien. In spite of our beginner status, she was patient, kind, courteous, and funny. Her favorite expression, when questioned about some oddity of Spanish grammar is 'Dahts dee way dee cooookie crrrumbles." She even invited us to have lunch with her family, twice. We learned plenty in a short time, and found that our fluent French helps a great deal. If you don't know a Spanish word, you just try the French one, pronounce it a la espa˝ol, and it usually works. It seems that Signe mixes it up a little too much, though, because Adela finally said: "I hate to keep correcting your pronunciation, because your Spanish has such a charming French accent!"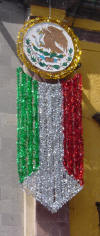 Jan is the one who tries on his new language skills with everyone and therefore usually makes the beeeg mistakes. The best one this time was when he asked the elegant gent in the restaurant if he was the owner, using the French word "patron." Unfortunately Adele said, explaining why the man chuckled, Jan's pronunciation was perilously close to "Are you the pimp?" This will go down in the annals of Jan's top fautes in various languages.

We also had the good luck to be in town for -- count 'em -- two big fiestas. The first was the national fiesta de la independencia. San Miguel is proud of its heritage as one of the birthplaces of the heroes of independence, so this is a big deal. There were mariachi bands aplenty.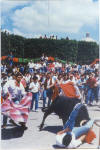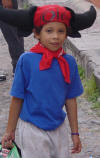 Also, for the last 28 years the town has celebrated with a running of the bulls through the streets, patterned after the pamplonada in Pamplona, Spain. San Miguel calls theirs the sanmiguelada, and this very dangerous event draws in lots of muchachos locos from Mexico City. We prudently watched it on television and cringed every time a would-be torero got hit by a bull. The seventy injuries this year were below average, and no one was killed for the first time in several years. (Jan was in the Pamplona bull-running in 1965 and can't for the life of him remember why. Might have had something to do with the nine-cents-a-liter red wine. He does remember that, although he was scared stiff and ran like hell, he never actually saw a bull.)


Afterward, in the main plaza, the revelers and the bands were out in force, all in a good mood and all working their way up to a good drunk. We got some great street scene videos while everyone was having a superb time. If you can download videos at a reasonable speed, be sure to click here and then here to view the short videos (1.3MB each) of the revelers and the musicians.


Believe it or not, there was an even bigger fiesta the next weekend, the celebration of San Miguel's patron saint. Adela told us it was more for the locals than the sanmiguelada, with a parade and lots more fireworks. There were Indian acrobats performing on a tall pole installed in the Jardin, the central square in front of the main church, and the church was decorated with flowered arches.


But the best was the parade of the Xuchiles, an apparently untranslatable word for the dance groups from the colonias (neighborhoods) and pueblos (villages). Each group had a float and was dressed distinctively, usually as historical Indian tribes in the area, and danced to heavy drumbeats. Adela warned us the costumes would be hilariously unauthentic (Aztecs in turquoise peacock feathers, Chichimecas in buffalo robes), but everyone was dancing (click here for video - 1.3MB) and having an absolutely wonderful time, so who cares? Add to that the blessings of the cowboys on horseback (the Jardin's odor suffered a bit after that), the cooks (much banging of pots and pans), and the . . . taxis! Hoods open, of course.
All in all, a terrific trip. We'll definitely be back in San Miguel for a future visit. And our espa˝ol is much better, up to at least the "Tres cervezas . . . " level. Mexican proverb we learned that's useful on the boat: "Enˇjate con todos menos con la cocinera." ("Get mad at anyone but the cook.")
Next, we're off to San Diego to prepare Raven and ourselves for another tough winter cruising Mexico.
Warm regards . . . Jan & Signe
This page was last updated on 04/13/04.