Raven in the South Island
February-March 2003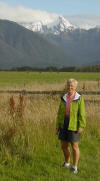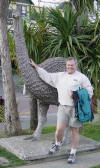 No, we haven't fallen off the edge of the earth. We're alive and well and living in a nice little rental house in Auckland, New Zealand. We've spent three months living in New Zealand since Raven landed here in November 2002, and have come to love the country and its people. Here are some of our latest adventures, especially our month-long car trip to New Zealand's beautiful South Island.
[Note: Click here for Raven's South Island travel ideas.]
America's Cup

Life has started up again in New Zealand after the humiliating defeat in the America's Cup Races. The kiwis have taken it as a national affront to have lost the Cup to the Swiss, especially since many of Alinghi's crew had been poached from Team New Zealand after the last Cup. But you've probably read all about that.
We were lucky enough to go out on the race course with a wonderful family of Texans we met on our South Island journey. They had chartered a 100+ foot motor yacht for a year and invited us to join them for the racing. We pounced on the invitation and really had a good time with them, their 13 year old daughter, her teacher and visiting family members, not to mention the seven crew members. So there we were on three different race days (but

saw only one race because the weather was so uncooperative!) high up on the sun deck of Askari, in the lap of luxury, watching hundreds of boats focusing on two tall masts and what they could do. It made the traffic jams of Fourth of July on Puget Sound look like a picnic. We were very glad we hadn't taken Raven out into the

fray. We also enjoyed the buzz of the Viaduct Basin, where all the race syndicates were based and the superyachts are docked. We have to admit to a bit of overindulgence in the commemorative clothing department.
All in all, we had a great time and feel like we were eyewitnesses to sailing history. The weather during the whole series was strange, either flat calm or blowing a gale. So racing on any chosen day was

an iffy situation. Then if we weren't going out on Askari, we had to finish all our boat jobs early we could glue ourselves to the TV. Nothing much was accomplished by anyone in this sailing-mad country for three weeks, as the TV coverage on race days lasted from 9 am to 6 pm! Now everyone is scurrying to catch up, or scurrying as much as Kiwis do. One of the pleasures here is that most everyone is pretty laid back. In fact, it is not unusual to see people walking around downtown in shorts or barefoot.
Raven "On the Hard"
NZ has a huge cadre of skilled boat builders and technicians of all types, so all cruisers arrive here with a big "NZ List" of jobs to be done. As I write, our trusty Raven is hauled "on the hard" at Salthouse Boatbuilders (highly recommended) for maintenance work.

She looks like a plucked chicken: no sails, no mast, no cushions, no carpets, just the bare bones. The boatyard is out in the sticks on a fast flowing tidal river, surrounded by anchored cruising boats, ducks, and rowing shells sculling by. It is quite bucolic despite the earsplitting Orion radar planes flying at masthead height to land nearby at a Navy base. Since the Orions are the planes that help sailors in trouble, we just smile, wave and say, "Good on ya!"
South Island Cruise
Our big travel news since we last updated this webpage is our month long car trip to the South Island. If you haven't been to New Zealand yet, put it on your list. The scenery is spectacular (yes,

the scenery in Lord of the Rings movies is for real), and the natives are overwhelmingly friendly. If you can wangle a month's tour, there is a ton to see just in the South Island. Then leave another month for the North Island. You won't be disappointed. You also need plenty of driving time, since there are no motorways to speak of and there are lots of twisty roads and one-lane bridges, but that is all part of the charm. We put 5,000 km. on the car during this trip.
We started our trip with a short revisit to Lake Taupo, then spent a couple days discovering Wellington, the capital of the country. They have an amazing national museum there called Te Papa, full of Maori treasures, history, a special Lord of the Rings exhibit, exhibits on various aspects of Kiwi society, etc. We spent hours and only saw one floor. We'll definitely go back.
Kiwi B&Bs
High among the delights of our trip were the B&Bs where we stayed, and especially their hosts. We decided that we needed some TLC after making it across the Pacific, and we're glad we did. Most were beautiful private homes with one or two guest rooms, yummy breakfasts, beautiful bed linens, all the comforts, plus some of the friendliest hosts we've ever met. Most invited their guests for wine and conversation every evening. They always had great recommendations of local spots to visit, restaurants not to be missed, and a favorite B&B in the next town. Out of seventeen different homes, there was only one that was slightly less than wonderful. We felt pretty lucky.

But that's the way it is down here. People really go out of their way to please, and the country is very well set up for travelers. Each town has its "I-Site" where you can get all kinds of travel advice, make reservations for hotels, tours, travel, etc. There are thousands of accommodations of different levels, from the cheap backpacker (pronounced beck-peck-uh in fluent Kiwi) hostels to posh spots like Huka Lodge that require a second mortgage. The country is well served with intercity busses, but most tourists rent cars or campervans. There were also quite a few intrepid bike tourers. We were quite happy in our boring but thoroughly reliable Toyota Camry.
We took the Lynx ferry from Wellington to the South Island. For those of you who are wondering why we didn't take Raven south, the Cook Strait between the two islands is one nasty piece of water. And it gets worse as you sail south. The reason that we met the folks from Askari was that their crew was prevented by high winds and seas from delivering the boat to them in Milford Sound as planned.
Blenheim and the Marlborough Sound

Blenheim and the Marlborough Sound area were excellent first stops on the South Island: a warm sunny region known for vineyards, fine wine, and beautiful bays and islands. We did a couple of days of wine tasting, eating yummy meals and then taking walks to wear some of it off. What a way to go!

Even though Signe had done plenty of research about what we wanted to see, we still had no idea when we arrived whether to go clockwise or anti-clockwise (as it is known down here) around the island. Our friendly hosts at Karere House made lots of good suggestions and set us up to go anti-clockwise, setting us up with an itinerary of vineyards, restaurants, scenic spots, etc for the next thousand kilometers.

We started our experience of twisty roads with Queen Charlotte Drive from Picton to Nelson. If you get car sick, take the longer, straight road around! There are spectacular views over Marlborough

Sound, but the passenger had to describe the view to the driver, lest he miss a sudden switchback.

For a lunch break we tried our first of the national specialty, green lipped mussels. There is a funky restaurant in Havelock called The Mussel Boys that fixes them about ten different ways. Yum!
Nelson is a very artsy town with lots of craft galleries, one of the best bead shops I've ever seen and a museum called The World of Wearable Art, or WOW. And it was! Every year there is a show with artists invited to design costumes on several different themes. What talent and creativity! I was totally in my element, but Jan was just grateful there was a car museum next door!.
Rugged West Coast


On to the convoluted West Coast, to Westport, passing through the Buller River Gorge. This was the first of a series of deep rocky chasms with rushing rivers. The chief attraction to my daredevil of a husband was the Buller River Swing Bridge and Comet Ride. Now the Kiwis will do anything for a thrill and the legal community does not have quite the sway that it does in the US. This bridge was basically made of planks with chicken wire along the sides. It was definitely not wide enough to let two people pass

comfortably. Access was theoretically limited to fourteen people at a time, but I swear I counted at least twenty joining my crossing. What were they thinking!!! As we swayed back and forth, there was a ton of rushing river water about a hundred yards below me. Are you getting the feeling that this was not my favorite experience of the trip? Not to be outdone, though, Jan had to take the Comet Ride back across. He was harnessed in a swing seat and the Kiwi jokester-attendant shoved him out onto

the cable, saying, "Oh, wait! I didn't tell you how to do the landing!" When he landed, he said he regretted not doing it in the Superman Position, like the teenagers were: more fun, and only a slight surcharge!

The coast at Westport looks a lot like the Oregon coast, very wind swept and rainy with waves crashing impressively on the rocks. In fact we had the biggest downpour of the trip and were glad for all our Northwest rain gear. Most of the building roofs here are metal, so hearing the rain beating on the roof all night was quite pleasant.

One of the scenic areas on the way south is Pancake Rocks. We were still a bit skeptical about some of these "tourist spots", but Pancake Rocks were geologically fantastic, with huge blowholes and rock arches. We enjoyed it even in the pounding rain.

Our B&B that night, Kapitea Lodge was a huge house on a cliff over the sea. They had five rooms that were all occupied. One of the problems of the West Coast is that there aren't many restaurants, so we had arranged to have dinner there, as had all the other guests. We had a rollicking dinner party with new friends from the UK, Holland, Ireland and Canada, and a good dinner besides.

The next day we stopped to see Fox and Franz Josef Glaciers, and Mt. Cook. The mountains in that part of the coast are known as the Southern Alps and they are really impressive. The snouts of the glaciers are within walking distance of the roads, so we enjoyed being up close and personal – again something that wouldn't be

permitted in our litigious society. In the parking lot we spied two keas, the fearless and intelligent local parrots whose favorite recreation is pecking the rubber moldings around car windshields, but escaped before they got to our car!
Wanaka and Queenstown

From the coast we headed inland through gold rush country to Wanaka, a small ski and summer resort town on a big lake. We did a bit of hiking there and had a river kayaking experience. I was

nervous about the whole thing, but our kayaking from Raven served us well. The first rapids gave me a nasty little wave over the bow – and tossed Jan into the swiftly flowing river. Admittedly he was in an open kayak, tough to steer, and he claims he really enjoyed the refreshing mountain water! The guides helped him back in and we floated and paddled our way down river. It was a gorgeous day with poplar trees lining a river that was so clear we could see the trout swimming by.


Queenstown, also a ski and resort town on a lake, was next. We stayed in a super modern house, Twin Peaks, built on a high rock overlooking the mountains and the lake. Queenstown is known as the Adventure Capital of New Zealand. Kiwis will do anything as long as it involves jumping off of or out of something! There were plenty of opportunities to go bungy jumping, canyoning, tandem skydiving,

sledging (whitewater kayaking without the kayak), parasailing, zorbing (don't' ask!), etc. We had no trouble restraining ourselves to a cable car and a luge ride down the mountain. Of course we also had to do the famous Shotover Jetboat ride. Imagine going about 60 miles an hour in a rushing river, coming within centimeters of the canyon walls, then doing 360 degree turns into

the rapids. We also flashed over areas of the river where the water was about four inches deep. I was sure we would be flying end over end. It was a not-to-be-missed experience for both of us. On a

calmer note, we had a peaceful outing on the lake on a 1900's steam ship called the Earnslaw to a sheep station where we saw a display of sheep shearing and herding by sheep dogs.
Doubtful Sound Cruise

There is a whole area of the West Coast that is isolated with sounds and fjords galore. We decided to take an small ship on an overnight tour of Doubtful Sound (Captain Cook gave some wonderful names to places he visited!). Milford Sound is better known, but is now full of helicopter sightseeing flights and lots of tourists, so it has been a bit ruined according to many of our B&B hosts. We are not generally interested in group touring, but the ship was the only option. So by a very circuitous, but fascinating trip by bus, ferry, another bus and finally our ship, we arrived in Doubtful Sound. We had a small, but comfortable cabin, excellent food; knowledgeable nature guides; and friendly passengers from all over

the world. The scenery was very much like Alaska, but with different vegetation and wildlife. The one form of wildlife that we could have done without was the ravenous sand flies. They were in swarms around us anytime we were on land. They bite, but you don't realize you've been attacked until two days later when the itching starts. We made several trips to pharmacies to find a cure. If you go – be warned!
On this trip we became connoisseurs of the altered road sign, a New Zealand specialty. We wish we had stopped to take photos, but you'll just have to take our word for these examples of Kiwi humor. One sign that started out as "Danger-Ice" ended up as "Danger Spice Girls." Another started out as a pedestrian crossing and ended up as a billiards player. The best, though, showed that there were a couple of bumps ahead in the road – someone had added a very professional set of nipples.
Dunedin and Oamaru

From Queenstown we headed for the East Coast and Dunedin, which had been the wealthiest city in New Zealand during the Gold Rushes of the 1860's. The lavish architecture, especially the banks, the train station and some of the stately homes showed just how much gold had passed through the city.
The Dunedin Peninsula is really spectacular with rolling farm lands alternating with views of the sea. The highlight, though, was a visit to the royal albatross colony, the world's only accessible albatross nesting site. The birds were still nesting and, from the viewing blind, we were able to see some big chicks covered in fluffy white down and several eggs that were still in the nests. The Royal Albatross is a huge bird with a wing span of about ten feet. When one flies over, it is an amazing sight. The nestlings and eggs are carefully guarded by rangers who set traps for predators (they caught 32 weasels last season!), watch over the eggs and chicks, and generally make sure these endangered birds keep reproducing.

We continued our travels north up the coast to Oamaru, which turned out to be a hidden gem. A pair of architects designed 30 or so buildings there in the 1880's (gold, wool, and grain profits!) out of the beautiful, white local sandstone. Most of New Zealand is pretty nondescript architecturally, but here in the middle of nowhere were all these fabulously decorated buildings, all glowing in the sun.

Apparently, after the Gold Rush, the bottom dropped out of the economy, people moved away and no one wanted to take the old buildings down to make way for something in a more modern style. How fortunate!
In Oamaru we had more wildlife adventures watching the little blue penguins come back to their nests for the night. They go out hunting alone for several days, then form into groups for protection

to come back ashore. They surfed the waves up onto the rocky shore, and then slowly waddled up to the road, where they patiently stood until they were sure the coast was clear. Then they dashed across to their nests and their waiting babies.
Christchurch

Our last major stop was Christchurch where we discovered the Antarctic Center, the base for all the NZ and US Antarctic expeditions. The visitors' center there was full of intriguing displays and videos of life on the bases. Imagine spending an Antarctic winter in the bitter cold with no daylight at all for months on end. Give me the tropics anytime!

Christchurch is a very lovely city with the River

Avon running through it. It makes for a very peaceful atmosphere, especially when viewed from a river boat floating along under the trees. There is also a big botanical garden and a fine museum in the center of the city. There is not a lot to do in Christchurch other than to hang out and enjoy its beauty.
As we headed farther north up the coast, there were fewer towns and more beautiful coastline. We had our hearts set on a big meal of the lobster that the area is known for, but had a terrible time finding any, as most are shipped live to Japan. The ones that remain must, by NZ law, be drowned slowly in fresh water before being boiled – this is allegedly more humane! The restaurant where this torture was explained to us then wanted to grill the already-cooked lobster before serving it. Rather than spend a fortune for some overcooked seafood, we went to the landing pier and bought some crayfish that had merely been steamed, then took them to our next B&B to eat chilled for our last dinner in the South Island. It was a fitting culinary end to a great trip.
We have just returned from a trip to the US to help Paul and Michelle settle into their new home in LA, and to go to a baby shower. We are really having fun perfecting our grandparenting techniques in advance. Jan was caught checking out the stuffed animal department and succumbed to a tiny pair of NZ wool booties for the baby the other day.
Now we are back and settled into our cute furnished rental house, while Raven is groomed at the boatyard. We are enjoying the delights of having a washer and dryer, a dishwasher, comfy chairs and lots of room to spread out. We will definitely do some touring in the North Island before going back to the US in June to await our first grandbaby's arrival. Hope to see you then.
Love . . . Signe and Jan
PS: If you want to travel to NZ's South Island, take a look at our page of [Raven's South Island Picks] for some travel ideas and recommendations.
This page was last updated on 04/13/04.