A Grandchild & A Reunion
September 2003
Now for something completely different.

When last we wrote, Signe and I were living in a cozy rented house in chilly Auckland while Raven was receiving some TLC at Salthouse Boatbuilders. Since then, we have: 1) relaunched Raven; 2) moved her to Gulf Harbour marina and had her hauled out again and laid up; 3) flew back the the US for the the birth of our first grandchild; 4) made two more visits to our grandchild and her parents; and 5) had a reunion at home with a bunch of our cruising friends. So we're not cruising, but we're still having a great time in our retirement!
Ava Rose Twardowski


Our terrific son and wonderful daughter-in-law have done their duty and produced the best possible gift for all of us. Ava is a very considerate little girl, deciding to be born at noon on a Sunday in late June when the hospital was nearly empty. Everything we've been told about the joys of grandparenthood are turning out to be true. We've already flown down to California three times to dote on Ava and her parents, and she's only two months old! Can't wait to spoil her some more.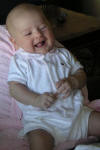 Ava's arrival has, in the most wonderful way, completely wrecked our cruising plans for 2003. Many of our friends are now cruising Fiji and loving it, but we have lots of consolations here at home.
Cruiser Reunion


We invited a bunch of cruising friends we met in Mexico to come to our home for a reunion, and most were able to accept. Turns out that we're not the only ones back home for the northern hemisphere summer, as our friends from North Road, Lil Gem, Avventura, By Chance, and Katie Lee were all able to make it. And the Starforms have been cruising the western Caribbean, so they're back home now to dodge the hurricane season.

We pretty much wasted the whole weekend on things like bocce ball and Mexican train, aerobics classes, walks on the waterfront, and preparing meals. Oh, and having a million laughs. At our age, we're easily amused. Mostly we just enjoy being together with such good friends.
Cruising Plans
Remember the old cruiser adage we told you about years ago? The one about "we have no plans and we're sticking to them"? Well, at the moment all we can say is that we will be doing more cruising in the future, but where and when is hard to say. We'll fly back to Auckland in early January to spend part of the downunder summer getting Raven back in shape and doing some local NZ cruising. Then maybe later in the year we'll get a chance to cruise Raven in Fiji, the last great Pacific cruising ground on our list. But I have it from a reliable source that Signe, having sailed with me from Glacier Bay to Auckland, has done her last bluewater passage. This means I'll be delivering Raven with crew, while Signe relies on the "Boeing method."
Thanks for all your interest and support. We'll write again after New Years.
Cheers . . . Jan
This page was last updated on 04/13/04.