Alaska Log #4

Ketchikan, Alaska
June 13, 1999

(Click on each photo to see it full size)

WE MADE IT TO ALASKA! Just a little earlier than planned. We had hoped to spend a couple of days in Prince Rupert, B.C. — civilization after 2 weeks without seeing a building, a road, and very few other boats. However, after 2 fabulous meals at the Cow Bay Cafe (Or was it just that someone else did the cooking?), a trip to the King Koin laundromat (with "fluff and fold" service), a flying visit to Safeway and to the local purveyor of crab pots, the weather report started to sound ominous. We want to be in Ketchikan on Monday to meet Patty Ecklebe, who will cruise with us for 5 days. We have a weather fax on board and also listen to the regular weather broadcasts on marine VHF radio. And we're part of a ham radio net that keeps track of boats, weather forecasts, and suggestions of favorite anchorages.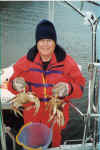 Anyway, back to our story. There was a gale warning for one or two days out, and since we were about to tackle Dixon Entrance, notoriously shallow, unprotected and open to the Pacific Ocean (gets very rough, very fast), we decided to skip town while the skipping was good. So, no boat cleanup, no Northern B.C. Museum, no boat tour of all the archeological sites, and no more fabulous desserts at the Cafe. We'll be back in Prince Rupert in August, so let's hope the weather gods will be kinder then.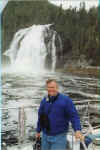 We took off the sail cover in expectation of needing steadying sails in the big swells, but got out in the open to find almost a flat calm. AND the sun has even come out! AND we saw our first whale this year (not counting the school of a hundred dolphins we saw last week), a male orca with a huge dorsal fin, travelling alone, maybe looking for his pod. We still aren't sure we made the right weather choice, but did get to spend a glorious night in Foggy Bay, a quiet cove with a view out to sea and no sound at all except the fish jumping. And no fog. The entrance was a bit treacherous with plenty of rocks to navigate around. We've been using a combination of paper charts (200 to 300 of them for the whole trip), a stack of books with descriptions of areas and anchorages, and our secret weapon, the laptop computer with a program that has all the charts and links with the GPS. So while Jan is at the wheel in the cockpit piloting the boat at dead slow, Signe is in the pilothouse watching the computer screen telling him when he will pass the next rock. The other interesting thing to note is that many of the areas we're travelling have only been charted in the last few years, or were last charted in the 1800s. It gives one pause!

In Foggy Bay, Jan deployed his favorite friend, Bruce, the 176-pound anchor, with all of his 300 feet of chain at the ready. Bruce is double the usual weight for a boat this size, so when he's down he stays down, no matter what. We get more sleep that way. To get Bruce back up, you have to ask him nicely and then use the electric windlass . Well, Foggy Bay is only 40 feet deep, a real exception — most of the places are more like 90 or 100 feet, which is much tougher. This is all glacial area from the last ice age, so everything is very deep. One night we anchored right at the base of a waterfall and let out almost all our 300 feet of chain.
Now we are at a dock in Ketchikan, which definitely still has its pioneer flavor. On one side of us is a very sleek motor yacht from Seattle Yacht Club, on the other is a black working tugboat named 'Spike.' Across the way a fish boat full of crab traps is pulling in. Down the way is another fish boat with a definite "yesterday's salmon" aroma. Glad we didn't have to tie up next to him. Every type of boat is mixed in together. Judging from the activity here, we're just glad to have a spot!
Coming into Ketchikan by boat is a real experience. Every mode of transportation is happening simultaneously: overhead, in the water, on land. We had two immense cruise ships leaving the dock as we were coming in, about 20 float planes landing and taking off, various fishboats coming in to unload the catch, not to mention the pleasure boats looking mystified to find the dock that the harbormaster has assigned to them. If that weren't enough, the airport is on an island right in the middle of town and jets were landing practically on top of the mast. To top it all off, in the middle of the harbor entrance, a humpback whale was serenely cruising along looking for a snack. What a world!
Love,
Signe