Headed North: Zihuatanejo To Puerto Vallarta

We finally tore ourselves away from Zihuatanejo and headed north, harbor hopping the 350 miles to Puerto Vallarta. We're going slowly to see what we missed on our fast trip south, and also because the travel into the prevailing northwest wind and seas is harder on us and the boat, so we only do short travel days. Some days we don't do any traveling at all!
The anchorages along this coast are pretty open to the Pacific, requiring bow and stern anchors and our "flopper-stopper", and still we roll. If we happen to find a relatively calm place, we stay for a while. In the first anchorage, Caleta de Campos, we watched the fishermen taking their pangas out at about five o'clock in the evening. We stopped one, and in our best Spanish 101 asked how long he stayed out. He said he would be coming back in about seven a.m. These are fifteen-foot, open boats, no cabin or shelter, with fifty horsepower engines. When we watched them coming back in the morning, they each had about twenty modest-sized fish. This seems like a pretty hard way to make a living, but there they go, night after night.
Our next stop at another rolly anchorage was at Maruata. It is fairly distracting to anchor in an allegedly quiet anchorage and have guys on surfboards hanging ten fifty yards behind the boat. Turns out this is a popular surf camp area. It was a spectacular spot, though, with rocky crags, surf crashing, pelicans diving and some pretty good surfers too, mostly Mexican, with the odd gringo trying to keep up.
The big adventure at Maruata came the next day as we were picking up our stern anchor. Jan was moaning and groaning that it was much heavier than usual and harder to bring in. Then we discovered that we had hooked someone else's whole stern anchoring kit, anchor, chain, slimy rope and all. Since we were the only boat in there, it was a mystery until we remembered that someone on the morning net in Z-town had mentioned losing a stern anchor "a couple of anchorages north." So we dragged it all aboard Raven and started emailing our friends in Zihuatanejo to try to find out who the rig belonged to. Jan was not particularly happy about this whole Good Samaritan effort since the anchor was really heavy and the line was messing up our decks with seaweed and sand. An email and a call on the morning Amigo Net revealed that the owner

was a powerboat named 'Miss Chris', which had already replaced its stern anchor rig and left Zihuatanejo heading for Acapulco and the Panama Canal. Hmmm. Now what are the aspiring Good Samaritans going to do?
Our next rolly anchorage to the north was in our favorite Cabeza Negra, only this time, all our friends had gone back to work and school. But it was still pretty, except for the ocean swells coming in from two directions! On the second evening, 'Sojourner', a powerboat that we had met in the Baja Ha-Ha rally, pulled in and came over to socialize. Turned out they knew 'Miss Chris' and were headed the same direction. Bingo! Were we ever glad to find a willing sucker volunteer to take the anchor off our hands.
Our next stop was Manzanillo. We decided we were ready for a quiet spot, so opted for the Las Hadas resort, made famous by the

movie '10.' The marina itself has only Med mooring in a tiny harbor, a tricky manoeuver where you drop your anchor in a big pile with everyone else's, then back into a tiny spot on the long dock between two other boats. It is closely akin to watching a fat lady don a girdle and we wanted no parts of it. So we anchored out in their protected bay. For a small fee (anything in Mexico is attainable for a small fee) we had the use of the hotel pool and dining rooms. We decided Bo Derek probably wouldn't be back; the pool was pretty, but the restaurant and rest were going down hill.
Manzanillo is the largest port on the Pacific coast of Mexico, so all night we watched a stream of freighters and container ships coming in and going out. We also heard lots of frustrated ship captains trying to wake up the Manzanillo pilot. We could just imagine them swearing in Korean about all the money it was costing them to hang around outside the harbor until the pilot had finished with his siesta!
We discovered a gem of a brand new archeology museum in town with some very nice displays of pre-Columbian sculpture and pottery. The labels sorely tried our linguistic skills, so we usually had to figure out the vocabulary via French.
Downtown Manzanillo didn't have a lot to recommend it except a wonderful mercado with the best looking vegetables we have seen yet. Of course we had to buy some even though it meant lugging them around all day. We always travel with a big canvas shopping bag, just in case. We also braved up and bought licuados (fresh fruit milkshakes) of various flavors. There were blenders lined up on the counter with big bowls of cut fruit so you could have any combination you wanted. Strawberry-Mango was pretty wonderful!
On to Barra de Navidad, with a choice of three anchorages. As we were about to turn into the Bay we heard one of our friends in the next bay over, Tenacatita, talking about a happy hour and book exchange at the local French restaurant that night. That settled it. We figured we were up for some social life, so we altered our course and met up with 35 other boats full of cruising friends. Wow!
Tenacatita was the most social place we have encountered in our travels, and the French restaurant called 'Paris Tropical' was the hangout for all the cruisers. Coronas and Pacificos for 7 pesos (75 cents), and decent burgers — these frogs know how to bring in the gringo cruisers! At the Happy Hour, we were invited to go along on the "jungle ride" the next day.

Next day, twenty of us in seven dinghies went on the hour-long 'jungle ride,' up a little creek-cum-mangrove lagoon to the outer beach. It was pretty interesting, especially when I could enjoy the birds and fish and stop thinking about the crocodiles and boa constrictors that were also rumored to be present. The highlight of the day for Jan was the trip back at planing speed, around blind corners and trying to pick me off on various mangrove branches.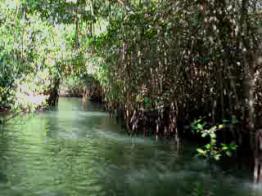 Tenacatita jungle ride (1,343K)

When we arrived at the outer beach, we all donned snorkeling gear and went out exploring in a spot with lots of fish, nicknamed 'the Aquarium.' It soon became evident that there was a marine drama underway. A twelve-foot manta ray was caught in a fishing net and had been struggling for about four hours. Inoffensive filter feeders living on plankton, these beautiful fish are common down here, are often seen flapping their wings near the surface, and sometimes jump completely out of the water. But Tenacatita isn't a great place for mantas, apparently. Last year, there was a famous (among the cruisers) event where a manta seventeen feet across became tangled with 'Neener3's' anchor chain and dragged the sailboat all over the anchorage before both could be freed by heroic cruisers.

Back at the Aquarium drama, one fellow had scuba gear and another had a knife, so they set to work to free the manta, a dangerous maneuver under water between the manta flapping its wings and huge bunches of entangling net. Anyone caught in the net could easily drown. Finally they were successful, and we all went back in to shore to warm up and recount the adventure. After lunch and a few beers at the palapa restaurant, the manta acquired a fifty-foot wingspan and became a man-eater! To make matters even more interesting, someone decided that all the men should wear pareos (Polynesian sarongs) to the 50th birthday party that night. So twelve guys negotiated the buying of pareos, bargaining for the right price from the thirteen-year-old beach vendor (who easily bested them all), and then choosing the "right" pareo according to their eye color or whether they were a "summer" or a "winter." It was pretty hysterical.


But it only got worse. At the birthday party that night, pareo wearing was just the beginning. (Yes, Jan has gone native and now wears his pareo every siesta and evening on the boat.) Two of the guys had an ongoing dare that on their 50th birthdays they would shave their heads. Others joined into the melee and all of a sudden there were five newly bald pale heads and much laughter. Lest you be concerned, Jan held out. One of the fellows already had a shaved head, so he decided to have his ear pierced and decorated with quite a nice diamond stud. Thus passes a slow Thursday night in Tenacatita.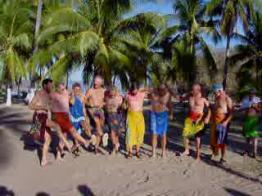 Pareo Fasion Show (1,278K)

On other nights there were dinghy raftup cocktail parties, full dinners aboard Raven with lots of Canadian friends we met on the way south, and long games of Mexican Train dominoes. We're not sure why, but this many-handed strategy game is all the rage down here; it's tremendous fun with a big group.
Well, we finally did get to Barra de Navidad, but anchored in a small corner of the bay called Melaque rather than trying the tortuous and ever-silting entrance to the marina and the lagoon. Those were better visited by panga ferry rather than being yet another boat being assisted, having run aground.
Melaque was a pretty dusty, but typically Mexican town, with the addition of lots of Canadian RV'ers. We've decided that British Columbia and Alberta must be totally empty this winter, and Quebec must be down to a skeleton crew. There are also the usual dirt streets, 'tiendas' (little stores), and the odd burro.


Barra de Navidad was quite a colorful beach resort with huge waves for surfing and shops filled with string bags of beachballs, sun hats, sandals and snack foods. It reminded us of our days on the Jersey shore. We had to do lots more paperwork with the Capitan de Puerto here — the bane of the cruiser's life — four hours and $45 later we were free to go.


Melaque and Barra are so close to Tenacatita that we decided to go back there for just a few more days of being wild party animals — hard to believe, but true. One more dinghy trip on the lagoon, and another cocktail party/raft-up with thirty or so dinghies.

Finally we couldn't put off our departure any longer, since Paul and Michelle are arriving in Puerto Vallarta on February 17th for four days. So it was twenty miles northward to Careyes and the loveliest hotel, restaurant, and pool we've seen in Mexico —and the most magnificent gift shops! I gave a little thanks to the gods of luxury for treating me so well! We loved Tenacatita, but I was getting just the teensiest bit tired of my constant attire of quick dry shorts, bathing suit top and Tevas to make all the shore landings. (No, some of them didn't go as planned!) In Careyes we made a relatively dry shore landing, had a gourmet lunch on a gorgeous patio, on embroidered linens with real napkins and ICE CREAM!!!! Ah, it's the simple pleasures in life! As if that weren't fabulous enough, I had a real browse around a shop full of beautiful Mexican ceramics (about ten times too large to come onto the boat with me, but I can always dream!) and a totally decadent afternoon

by the pool. It was so wonderful, we stayed an extra day. The enchiladas and limonadas were worthy of Gourmet Magazine. Jan was amazed I didn't buy the six-feet-tall, four-feet-wide ceramic vase — just what Raven needs!
Now we are getting within radio range of Puerto Vallarta. It is feeling a bit like it did hitting Seattle after being in Alaska for four months — The Big City. Only one more day of scouting for lurking fishnets, marked only by floating plastic pop bottles, that ever handy Mexican implement. Unfortunately, they blend into the color of the water, so you can only see them when the bow of the boat is right about to snag a long net. One of our friends had his motor stopped dead with about two trash bags-worth of net. We all feel guilty if we damage the nets, and some fisherman's livelihood, but they are everywhere and very difficult to avoid.
We have one more cape to round, Cabo Corrientes, before PV. Unfortunately, the weather has gotten very windy after being totally benign for months. All capes are known for confused seas and winds, so we will probably get up at first light tomorrow to round it before the wind comes up for the day. We are in a tiny bay called Ipala just south of the cape as I write this, with the wind gusting to twenty-plus knots inside the anchorage. Lord knows what it's like outside. We were torn about coming in here since we had been warned that it is one of the areas where there was drug activity in past years. The Cruisers Network reassured us that it was very safe and pleasant, so here we are. (Got a question? Just mention it on one of the many radio nets.) There are four other cruising boats in here, all waiting for the morning calm so they can sprint around the cape. Our only visitors were two young boys asking if we had any paper and pencils they could use at school. This tiny settlement is eight miles on a dirt road from the next town, which has no road out at all, and things are pretty primitive, to say the least. I was happy to give them some things from our goody box of kids' clothing, story books in Spanish, school supplies, etc. — all the cruisers carry similar things for the Mexican kids.
We have to admit to being a bit excited about getting back to "civilization." Jan is starting to hallucinate about reading a Wall Street Journal, even if it's a few days old. (Say, who won the election?) Personally, it's the idea of a haircut, and a manicure/pedicure that is motivating me. What did I say about the simple pleasures of life? Mostly, though, we're looking forward to welcoming Paul and Michelle for a few days down here in paradise. Now, if we can just get around that cape in one piece . . .
Oops. Looks like another month has slipped away.
Hasta luego, Signe

PS: What's the first thing we did on reaching Paradise Village Marina? Get together with our buddy-boat friends from 'Felicity', plus their friends from 'Crusader', for a Mexican Train dominoes party with Domino's pizzas and Häagen-Dazs ice cream!