Pacific Puddle Jump Fleet
March 8 - Puerto Vallarta
We had the pleasure of meeting many of this year's Pacific Puddle Jump fleet last week ­ that is, those lucky sailors who will soon be crossing the Pacific from Mexico to French Polynesia. About 50 boats will be making the 2,800-mile crossing this year and we're jealous as heck! You can meet them in the pages of the April Latitude, but until then, here is a sampling of photos from the fleet.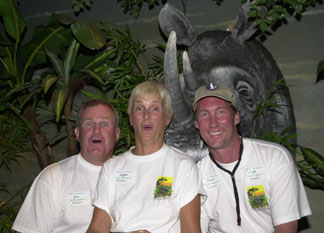 L to R: Jan, Signe and Mark of the Sundeer 64 Raven feel the heat of a Rhino's breath at The Jungle Restaurant in Paradise Village, Nuevo Vallarta, where the March 5 Puddle Jump Party was held (co-sponsored by Latitude 38 and Paradise Village Resort and Marina).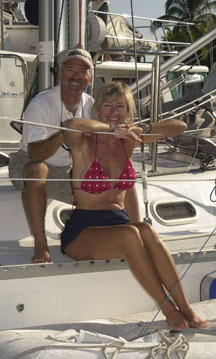 Long ago, when Keith was courting Susan, he promised that life with him would never be dull.
And their life together aboard C'est La Vie, a Catalina 470, has been anything but that.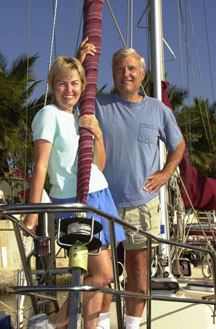 Meet Diane and John of Island Packet 35 Rag'n Drag'n. John and two brothers will make the crossing and Diane will rendezvous with them in Tahiti for further adventuring.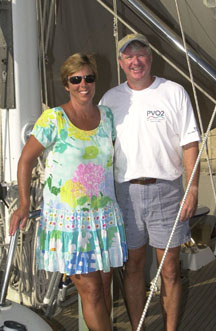 Suzy and Clark of the Mason 52 Final Straw took on the ambitious roll of organizing the fleet's information database so everyone could keep in touch before, during and after the crossing.

Photos Latitude/Andy