---
To subscribe to 'Lectronic Latitude, send a blank email to LectronicLatitude-on@latitude38.com with 'subscribe' in the subject line, and we'll notify you when 'Lectronic Latitude is updated! Note: If you have tried to subscribe recently and been unable to, this link has been fixed.
---


Photos of the Day

March 23 - San Francisco Bay

The coming weekend is looking a little gloomy in the Bay Area, with a forecast for showers, so we thought we'd perk you up with some photos from the last two weekends, which were fabulous.

Photos Latitude/JR



---


Banderas Bay Report

March 23 - Nuevo Vallarta

A record 59 boats are ready to go for today's 9th annual Banderas Bay Regatta based out of Paradise Resort and Marina just north of Puerto Vallarta. The fleet, which is for cruising boats only, is the strongest ever. At the top of the list are seven multihulls with an average length of 50 feet, several of which are back for the fourth year in a row. The largest monohull division is headlined by Tom Petty's Wylie 65 Roxanne and the Twardowski family's Sundeer 65 Raven. The event consists of three races, with terrific parties at the Paradise Resort afterwards.

In a previous edition of 'Lectronic, we reported on a 40-knot storm that
whipped through Tenacatita Bay in early March. It turns out there was a shorter but more wicked blow further down at Z-town at about the same time. Cruisers report that up to 70-knot winds tore through the bay for about half an hour. The Santa Cruz 52 Impulse suffered damage to her bow roller and mast. The Cottrell family on the Kennex 445
catamaran See Life had even more trouble. In the process of dragging, they decided that it would be best of Shari and their two young daughter swim to shore. Which they did safely.


Raven on her way to Mexico


Parents Monte & Shari and
daughters Haley & Daphne Cottrell

Photos Latitude Archives


---


Pacific Puddle Jump
March 23 - Nuevo Vallarta
While the rest of us dream on, a veritable armada of cruising yachts is actually making its way westward across the Pacific toward French Polynesia - by far the largest group of 'Pacific Puddle Jumpers' to make the 2,800-mile trip since we started keeping track in the mid-'90s.
You'll meet them all - the Pacific Puddle Jump class of 2001 - in the pages of the April issue of Latitude 38. But we thought we'd introduce a few of them here, over the next few days, in 'Lectronic Latitude.
Also II - Passport 42
Jim & Kyoko Bandy, San Francisco

The Bandys began their southbound voyage from Marina del Rey in November of '99, and headed up into the Sea of Cortez after rounding the Baja cape. The highlight of their stay there will be hard to top: Kyoko rode on a 24-foot whale shark last summer in Bahia de Los Angeles. Sound fishy? "It really was that big," she swears. "A local biologist confirmed its length, since he'd previously tagged it." Clearly an inveterate 'water person', she's a prodigious 'fisherwoman' who has a habit of feeding the fleet at beach barbeques wherever she goes.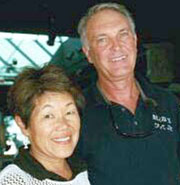 Jim may well be one of the saltiest guys in this year's group. He's lived aboard for 22 years, and has been planning to go cruising since 1972! The plan was for Also II to be one of the first boats to head west. En route, Jim will serve as net controller for the Puddle Jump fleet.

In addition to the typical 'milk run' through French Polynesia, Fiji and Tonga, the couple also plans to visit Kyoko's homeland, Japan, as well as far-flung North Pacific islands such as Truk and Yap.

Their advice to the wannabes back home: "Go as soon as possible, get the biggest watermaker you can and bring plenty of awnings!"
Photo Latitude/Andy
---

YOTREPS
March 23 - The Pacific Ocean and Cyberspace
Who is out making passages in the Pacific and what kind of weather are they having? Check out YOTREPS - 'yacht reports' - at http://www.bitwrangler.com/yotreps/
---

Weather Updates
March 23 - Pacific Ocean
San Francisco Bay Weather
To see what the winds are like on the Bay and just outside the Gate right now, check out http://sfports.wr.usgs.gov/wind/.
California Coast Weather
Looking for current as well as recent wind and sea readings from 17 buoys and stations between Pt. Arena and the Mexican border? Here's the place - which has further links to weather buoys and stations all over the U.S.: www.ndbc.noaa.gov/stuff/southwest/swstmap.shtml.
Pacific Sea State
Seas are normal in the Pacific. But you might check out the Pacific Ocean sea states at: http://www.mpc.ncep.noaa.gov/RSSA/PacRegSSA.html.
For another view, see http://www.oceanweather.com/data/global.html.
---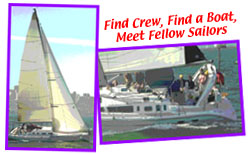 at the Latitude 38
Crew List Party!

Thursday, April 5, at the Corinthian Yacht Club, 43 Main Street, Tiburon, 6-9 pm.

For complete details and a printable, downloadable flyer, see our Crew Party Web page.
---
Top / Index of Stories / Subscriptions / Classifieds / Home
©2001 Latitude 38 Publishing Co., Inc.