---
---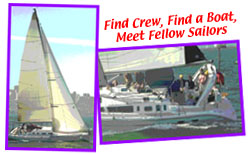 at the Latitude 38
Crew List Party!
Thursday, April 5, at the Corinthian Yacht Club, 43 Main Street, Tiburon, 6-9 pm.
For complete details and a printable, downloadable flyer, see our Crew Party Web page.
---



Photo of the Day

February 19 - Tenacatita Bay, Mexico

Think cruising doesn't change a man? Before they took off cruising to Mexico, most of these guys were probably your typical hard-charging, stressed-out, career freaks, worried about all kinds of artificial stuff. There was no way any of them in their former lives would have agreed to participate in a 'pareo fashion show', as they're seen doing here at Tenacatita Bay. It's just a guess, but we suspect their blood pressure has dropped an average of 20 points and that they're laughing a whole lot more. Jan Twardowski of the Deerfoot 65 Raven took the photo.


Photo Jan Twardowski
---

Puerto Vallarta Race Update
February 19 - Pacific Ocean

The rich are getting richer. All the smaller and slower boats that were in the early starts of the Del Rey to Puerto Vallarta Race suffered through several days of zephyrs, sometimes covering less than 100 miles in 24 hours. But when the sleds finally started, they had at least enough wind to turn in 200-mile days. Nothing for them, but they're rapidly overtaking the smaller boats. For details, check out today's report about 1:30 p.m. at http://www.dryc.org/.
---



The Race Update

February 19 - Atlantic and Southern Oceans

With Club Med, soon to cross back into the North Atlantic and having a nearly 1,000-mile lead on Innovation Explorer, the only question seems to be whether Club Med will finish the course in less than 60 days. Skipper Grant Dalton is cautioning against any such expectation. Meanwhile, the other three boats are basically 6,500 miles behind in New Zealand. Warta Polpharma is in third place, having overtaken Team Adventure, which pulled into Wellington for repairs and the loss of another crewman to injury. They've continued on with nine. As she departed, Team Adventure crossed paths with Team Legato, which was putting into Wellington so three crew could seek medical attention. It's expected they'll be down to seven crew.

With a comfortable lead, Grant Dalton touched on several interesting topics: "The Trades blow at between 15-18 knots at night and 11-12 knots during the day. We are sailing with the full main and the Solent and moving correctly towards the north. Perhaps if I had this race to do again, we would have developed another reaching sail for the Trades that would be a bit more efficient right now, something like the sail that Team Adventure used on the way south through here a month ago. But taking another sail means having to carry that extra weight when it isn't used, and, importantly, putting it down below inside one of the hulls in the South.

"You can never have enough food on board. We are always hungry. At the beginning of The Race we were throwing some of the food we prepared away everyday as people weren't that hungry. But as The Race has progressed we are just more and more hungry. Every grain of rice that falls on the floor is meticulously picked up and eaten, every scrap is devoured. One of the biggest dilemmas for each of the crew is to decide whether or not to eat his three extra daily snacks, issued for the time between meals, right at the beginning of the day, or to try and make them last out all day. Not an easy one to solve."

Blue Club Med
Green Innovation Explorer
Orange Team Adventure
Yellow Warta Polpharma
Magenta Team Legato


Graphics Courtesy Club Med
http://www.catamaran.clubmed.fr/

Ranking of 19 Feb 2001 15:00:00 GMT:

1. Club Med / dtf 4084.3 miles
2. Innovation Explorer / dtl 926.7 miles
3. Warta Polpharma / dtl 6615.9 miles
4. Team Adventure / dtl 7007.3 miles
5. Team Legato / dtl 7232.9 miles
---
Port Captain fees in Mexico

February 19 - Mexico City

On January 1, Mexico's Secretary of Communication and Transportation instructed Mexican port captains to, for the first time, charge fees each time a boat checked in and out of a port. These fees were not only very expensive, about $20 each way, but required an extra visit to a bank to pay the fee. It was not good. Another reason it wasn't good was because it was confusing. If a boat left a marina to anchor out for a night, did it have to check out and then back in again? Some port captains thought yes, some thought no.

Terri Grossman, president of the Mexican Marina Owner's Association, and several others flew to Mexico City to tell Communications and Transportation that this new law wasn't in anyone's best interest. Not for the Mexican government, not for the port captains, and not for owners of private boats or the Mexican marine industry.

Apparently the government listened, because on February 13, the Director General of Port Captains sent out a temporary modification of the law that is expected to be a prototype of a permanent change in the law. According to Mary Shroyer of Marina de La Paz, the main impact of the modification is that when a boat leaves a port, but stays within the port captain's jurisdiction, they only have to check out over the VHF radio and there is no fee. For example, if a boat that was in La Paz wanted to leave for a month of cruising between Muertos and Agua Verde - a fine and large cruising area - it would only have to inform the port captain over the radio. But if the boat was going to leave the port captain's jurisdiction, perhaps going down to Cabo, up to Puerto Escondido, or over to Mazatlan, the boat would have to check out and pay the fee.

Everything was relatively clear this morning, until we got the following email from Heidi Grossman in San Carlos. Heidi is Terri Grossman's daughter:


Should these boats anchored off La Cruz have to pay $20 to check out, and then another $20 10 miles later to check into Nuevo Vallarta?
Photo Richard/Latitude

"The law actually states three types of despachos.
1. Interno. The internal despacho is the one that causes some confusion. The law says that this despacho is required when leaving the Captain's port or zone. This usually means that just exiting the port would require you to have a despacho. Some Captains have not really been too strict about requiring this despacho, but others have. The Captain of the Port here has already started requiring a monthly despacho for all rental boats that go out fishing/diving in the immediate San Carlos area. The next step will be to also require these monthly despachos for private owners that fish or dive in the area.

"2. Cabotaje. This despacho applies when you are leaving the port for an overnight stay elsewhere or to another port. This has always required a despacho, and if I am able to become an honorary delegate, I would be able to issue these without having to pay the new port captains fees. Until then clients will have to go through the new steps to get the despacho.

"3. Altura. This despacho is issued when traveling from a Mexican port to a foreign port. This type of despacho may only be issued by the port captain's office and they will charge you the new fees. Another big change in the temporary modification is that day charter boats - particularly the hundreds of sports fishing boats in Cabo - no longer have to check in and out every day. They'll now be allowed to do it once a month."

We're now totally confused, because Mary and Heidi seem to have a different take on Interno despachos. Mary understands they can be done over the radio without a fee; Heidi says not all port captains are seeing it that way, but in any event she's trying to become an honorary delegate so she can do it for cruisers for free. Confusion about Mexican law is nothing new, and we'll try to stay on top of it.
---

YOTREPS
February 19 - The Pacific Ocean and Cyberspace
Who is out making passages in the Pacific and what kind of weather are they having? Check out YOTREPS - 'yacht reports' - at http://www.bitwrangler.com/yotreps/
---


Weather Updates
February 19 - Pacific Ocean
San Francisco Bay Weather
To see what the winds are like on the Bay and just outside the Gate right now, check out http://sfports.wr.usgs.gov/wind/.
California Coast Weather
Looking for current as well as recent wind and sea readings from 17 buoys and stations between Pt. Arena and the Mexican border? Here's the place - which has further links to weather buoys and stations all over the U.S.: www.ndbc.noaa.gov/stuff/southwest/swstmap.shtml.
Pacific Sea State
Seas are normal in the Pacific. But you might check out the Pacific Ocean sea states at: http://www.mpc.ncep.noaa.gov/RSSA/PacRegSSA.html.
For another view, see http://www.oceanweather.com/data/global.html.
---
Top
/ Index of Stories / Subscriptions / Classifieds / Home
©2001 Latitude 38 Publishing Co., Inc.