Huahine, Raiatea, & Bora Bora
Or: "How to waste a month in Paradise"
August 2002

In the words of Rogers and Hammerstein, we found our "own special island." In our case, it's not Bali Hai, but Huahine (oo-wah-HEEN-ay). We were there for three weeks and could have stayed for three more and not become tired of that beautiful island.
After arriving back from the US in the middle of the night – an interesting sensation to clear customs at 3 a.m. and then hop into a dinghy with luggage to head out to Raven in the pitch dark – we did the world's fastest breakfast-fuel-reprovision-checkout ever, and got underway to Moorea by two in the afternoon. Our friends and boatsitters, Mark and Jaye, had spent two weeks in Papeete and were ready to see some of the other islands. We were happy to oblige. We anchored two nights in Moorea so they could drive around the island one day and swim with the stingrays (a great experience) the next day.
Huahine

Then we made an overnight passage to Huahine in the moonlight. For the first time ever, I didn't mind my night watch, it was so beautiful. Unfortunately, there was very little wind, so we motorsailed the entire eighty-five miles. We cleared the reef at Huahine with a feeling of relief after some engine-caused heart palpitations, when it slowed irregularly just as we neared the pass. Our friends on By Chance stood by with towlines, but luckily there was no need. We have learned not to get too worried over these things, and just work through them calmly. It turned out to be a minor problem of air entering the fuel line, which Jan diagnosed later that morning and repaired temporarily. Such is the cruising life.
Fare

We arrived off the main town of Fare (FAH-ray) in the morning hours to find an anchorage crowded with cruisers and charter boats. Fare is a typical Polynesian town, where life revolves around the freight dock. The island is supplied by small cargo ships that come several times a week to pick up the melons and cucumbers that are grown there, in trade for the essentials of life. There are always lots of people sitting under the shade trees, waiting for the action. The kids hang out by the dinghy dock, jumping in the water, pushing each other in, climbing in and out of the dinghies that are docked there, and other kid-like activities. Some things are universal.
On the main street, behind the dock, women sell vegetables and melons out of the backs of their pickup trucks. We could never figure out the schedule; it seems that when someone needs money, they just bring vegetables to town. One day we bought wonderfully sweet, small cantaloupes from a family in their pickup. Never did we see them again. Other ladies were selling lots of root vegetables of unknown varieties. They do like their starch here.

Because the anchorage was very full, we decided to head right to Baie Avea, a cul de sac right at the southern point, edged on one side by the reef and on the other by a white sand beach and palm trees. There were even a couple of pensions (small hotels) with restaurants for our pleasure. Mark and Jaye spent a couple days hanging out there with us, enjoying the water activities before we had to deliver them back to Fare for their flight home. We had one last dinner together in an interesting local spot, not long on atmosphere, but with quite good food, even though it was a bit unusual in its taste combinations. I had to try mahi-mahi in vanilla sauce, as these islands are big vanilla producers. This sounds a bit like what our French friends imagined was a typical American dish – oysters in chocolate sauce. Actually, the fish wasn't bad at all, although it did seem a little like "mahi-mahi á la mode"! I don't think I'll be putting it in my permanent recipe file.
Le Deluge
As we were finishing dinner, the heavens opened and we had to make a dash back to the dinghy dock. What we hadn't realized was that the wind was by now blowing 25 knots straight at us. We broke all the rules of safe boating that night by having no lifejackets, radio, anchor, or bailer. We had a drenching ride back to Raven, with the seas breaking over the bow of the dinghy. By the time we got there, the water had risen over our ankles and we'd had a good scare. We were all safe and sound, but had a nervous night since there were boats that had anchored too close to us during the day. Several boats dragged anchor that night, but good old Bruce (our huge 176 lb. anchor) held tight as usual. Touch wood, but Bruce has never dragged on us.
Happily, the front moved on during the night so Mark and Jaye didn't have to do the reverse commute with all their baggage in the wet. Jan and I did a quick trip to the market after dropping them off, and headed back south to lovely Baie Avea.
Baie Avea

Jan and I each had a two-day sweaty flurry of overdue boat jobs in each of our respective departments, from oil changes to masses of laundry. But after that we really worked on our hanging-out-and-doing-nothing skills. It was so mesmerizing to sit and watch the clouds go by, the waves break on the reef, the charter boats come and go, etc. We read a lot of books, lunched at the Relais Mahana a few times, swam a few times a day, had a few drinks with friends, started and even completed a few projects, and generally enjoyed our surroundings. We did manage a bit of snorkeling, but it was only fair – the locals seem to have cleaned out most of the fish – so back to the relaxing.
One day while snorkeling and exploring we found a spear gun floating in the water and were happy to be able to return it to a very out of

breath young Polynesian who came hustling over in his kayak, making gun motions with his hand. It had rolled off his kayak and he had seen us pick it up. He asked us if we liked cucumbers, and if so he would bring us some. We had forgotten all about the incident, when he arrived a couple of days later with his wife and baby paddling in their family pirogue, or outrigger canoe. The people here are so nice and we're so happy we can communicate with them.
For a while, the weather was windy, then rainy. In a few hours we collected enough rain to fill the water tanks – 600 gallons! I got to do laundry to my heart's content once the rain stopped, because Mark had brought and installed the new pump in my washing machine. Oh joy! Oh happiness! I kiss that washer every week, whether it needs it or not!

Because August is prime vacation season for the French and Italians, there were always lots of charter sailboats around, providing entertainment with their anchoring skills . . . or lack thereof. Jan decided that there must be some serious clothing shortages in Italy and France, which really livened up our days, I'll tell you! (Note to Roy Kimbel: Jan's been trying to honor your request for a photo for the website but no luck so far; he needs one of those spy cameras, I guess. Stay tuned.)
We know we're really in the tropics, because we have a thriving crop of mildew that keeps reappearing in interesting places. Maybe 90 degree heat with 70% humidity has something to do with it! It shows up all over the ceilings and wall, in the heads, in the drawers, yuck. I found a leather (a big tropical No-No) belt of Jan's all blue and fuzzy. Jan always cringes when he sees me head out with my spray bottle of bleach water. That seems to keep it under control for a week or so. I guess you could say that, like the French, the Raven crew is a bit clothing-challenged these days too.
Island tour

Another day we rented a car for a round-the-island tour. The most interesting area was in a town called Maeva (welcome in Polynesian). There were the remains of about thirty marae (mah-RYE) – sacred enclosures or temples. Construction had begun on them in about 900 AD and continued right up until foreign diseases arrived with the Europeans and 90% of the population died. Most marae were by the lagoon, but the biggest and best preserved were up the hillside. Most had floors of big flat boulders, then big slabs of coral rock marking the chiefs' ceremonial platforms. We walked up into the hills with our Dutch/English friends from Duet to find several immense marae with spectacular views over the water. Those chiefs knew what they were doing! It is all an active archeological

site. Friends from Roxanne visited later, when the archeologists found a mother of pearl coconut scraper. Because the lagoonside marae are in a swampy area, more artifacts than usual have been preserved.
Also in the lagoon were stone fish traps, which we could barely see by car. We went back later by dinghy and discovered that the Polynesians have made labyrinths of stones, with tortuous paths to confuse the fish, then a small pool at the end to trap them. The locals are really skilled at catching fish in traps and nets, as well as spear fishing. We saw a guy spear a fish with a wooden spear like a javelin, while standing knee deep in the surf on the reef. We keep hoping for a great shell beach, but so far, haven't found one. We think the shells are broken by the violence of the waves breaking on the coral.
Moving on
Finally we decided it was time to move on, and we slowly tried out other anchorages on the way back to Fare. They were all right on the main channel heading to Baie Avea, and it was a bit like being parked on I-5, watching all the charter boats come and go. They obviously haven't perfected their hanging out skills the way we have, because one day they would pass by going south and the next day they would return going north.

The second time in Fare, we had the anchorage to ourselves, with the exception of the arrivals of the French Customs boat, the freighter Taporo and the Wind Song cruise ship. Lots to watch. We explored the reef there too and saw the ruins of the Bali Hai Hotel that had been destroyed by a cyclone in 1998.
We have never been boarded by any Official Boats, either in Mexico or in Polynesia, but our luck ran out in Fare. We were the first chosen, probably because we were the biggest. The inspectors – all Tahitians – were very polite and quite pleased that we could speak French and that we love their islands. After their questionnaires were filled out, our boat papers and passports examined, a few cabinets summarily opened, etc, they chatted with us about the islands, their life aboard, their sisters living in Hawaii or San Francisco, and about our future plans. Altogether, it was a surprisingly pleasant experience.
The East Side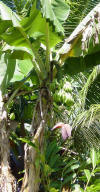 In our attempt to try some non-traditional anchorages we went around to the anchorages on the east side of Huahine, neglected by most cruisers who have less time. In four days, we saw only two other boats. There was great snorkeling on the bommies (Aussie slang for coral heads) behind a big motu. We finally found a top-quality shell, a tiger cowry, on one of the bommies – hard to find because the locals usually get there first. In fact, we would see locals swimming along towing a trash can floating in an inner tube. Every once in awhile they would toss in a live shell. No wonder we couldn't find any treasure! Twice we lunched at the luxurious Sofitel lagoon-side hotel, because The Captain realizes that it's good to give The Cook a day off as often as possible! – like whenever there is a restaurant anywhere within dinghy distance!
Wildlife Bulletin: We watched three humpback whales playing in the water just outside the reef. –just when we think we've seen it all!
Raiatea & Tahaa


The problem with cruising is that, no matter how nice the place, you eventually have to move on. So on a sunny day with little wind we motored over to the next pair of islands that share a lagoon, Raiatea (rye-TAY-ah) and Tahaa (who knows?). The anchorages on both islands are very deep, so we had the challenge of dealing with various mooring systems or putting out A Whole Lot of Chain. There are three different charter companies in these islands, so there were more boats around than we were used to. Luckily, they only went to the anchorages permitted by the charter companies. We had lots more choice.

The highlight of our stay was having Paul and Michelle fly into Raiatea to one of the world's coolest airports. We anchored nearby and dinghyed over to the Official Airport Dinghy Dock, a definite first for us. There was an outdoor café to wait in, a koi fish pond to add atmosphere and lots of good people watching – locals going to other islands, French long-time residents, a few honeymooners heading home, etc. Paul and Michelle enjoyed catching sight of Raven at anchor as their plane approached.

We spent five days circumnavigating Raiatea, anchoring behind motus and teaching the kids our

set of very refined Hanging Out Skills. Finally after about four days, they got in the full swing of it. The big decision of the day would be whether we moved to another anchorage, to explore, to snorkel, to play Mexican Train dominoes or Scrabble, or to finish the current book.
One of the more interesting little reef islands, Motu Noa Noa, had an abandoned airstrip and ruins that were part of an American airfield built during the Second World War. Apparently this was a secondary defense of the big airbase on Bora Bora that had 6000 men stationed there at its peak. The motu is uninhabited now, so as we

walked around it on the beach there was lots of imagining to be done about the lives of the soldiers sixty years ago. We have been reading Michener's Tales of the South Pacific and Return to Paradise, which give a flavor of the islands at that time.

Raiatea was also the spiritual center of Polynesia with the main marae from which all others evolved. In fact, each new marae on all the other islands had to be consecrated with a stone from Marae Taputapuatea. This spot was also the departure

point for all the great Polynesian migratory voyages. We are hoping to see an exhibit in Wellington, New Zealand on these voyages. We feel a bit like we're doing the same explorations, only with modern navigational aids and no paddling!
Bora Bora

We carefully checked the weather report for the 25-mile crossing to Bora Bora in order to avoid any conditions that would have our daughter-in-law taking up her familiar "Oooohh, I feel horrible" fetal position in the pilothouse. We have decided to put a brass plaque there to honor her gutsy spirit.

Unfortunately, Mother Nature is always in control of these things and, contrary to all weather reports, we had squalls with winds up to 28 knots and big, confused seas. Michelle looked a bit gray for an hour, but at least it was a short trip. Paul and Jan were happy when Raven hit 12 knots, but I tripped over the mainsheet and have two huge leg bruises to commemorate the voyage. Such are the rewards of cruising.

The view of Bora Bora from the sea is spectacular. There is one big craggy mountain in the center of an aqua lagoon with major waves crashing on the surrounding reefs. In fact, in the squalls the rain clouds seem to take on the aqua color of the lagoon.
Bora Bora

is much more touristy than any of the other islands we have seen in five months, even Moorea, and both local cruise ships, Wind Song and Paul Gauguin, were here when we arrived. It's much smaller and has some intense concentrations of high-end hotels with those neat over-lagoon bungalows. The first and maybe the best of these was the Hotel Bora Bora, which is still the loveliest. We happened to meet one of Paul's Princeton roommates, Andrew Mitchell, and his wife who were staying there on their honeymoon.

This is the first time we have been shooed away from dinghy landings on beaches, or snorkeling off of the beaches by hotel security guards, not only at the Hotel Bora Bora, but also the still-being-built Sheraton. We're feeling a bit like unwanted waifs. Do we look that scruffy? Don't answer that. At least the Hotel Bora Bora graciously allowed us to pay $75 per person for a buffet dinner and a little Polynesian dancing (a very pale reflection of Tahiti's Heiva).

We had another dinner out at Bloody Mary's, very touristy, but great atmosphere. It was the kind of place that proudly lists the names of all the celebrities who have been there. Paul threatened to come back with a small jar of paint and add his name. This was like a California restaurant experience, not the norm for Polynesia. But we still had fun with Paul and Michelle and our friends Rick and Elke from Mithrandir.
Underwater Bora Bora

Paul and Michelle have been doing lots of snorkeling and trying out the new digital camera in its

underwater case. Their favorite fish is the humuhumunukunukuapua'a, a.k.a. the Picasso-fish – check out the photo to see why. I think they just like to prove they can say the name, but it is a pretty cute fish too. We had a box of stale pretzel sticks, which quickly became food for a mob of frisky butterfly fish.

We sneaked Raven through a narrow passage that took lots of planning and courage, but it was worth it. Jan and Paul cased it first by dinghy, measuring depths and currents. Then, with Jan and me on Raven, Paul and Michelle guided us through in the dinghy with the portable depth sounder. There was just enough water on each side and under the keel to float us around Pointe Raititi to a pretty lagoon off the Hotel Bora Bora's beach. This is another place where it would be easy to get stuck for a few weeks, just like Baie Avea in Huahine.

We are still anchored there as I type. Paul and Michelle have gone off to rent a motor scooter for a lap around the island. Then tomorrow they start the long trek back to San Francisco. It has been a short visit, but very nice to get to see them for an uninterrupted time, and also to make our little contribution to their mental health: they both arrived exhausted, but by now they're tanned and fully relaxed.
Moving On Again
We have ten more days here, then we pick up our New Zealand friends, Lise and Bjarne Ellowsson, who will sail with us from Bora Bora to the Cook Islands and Tonga, beginning in mid-September, weather permitting. We are hoping Mother Nature treats us well, since most of the friends who have preceded us have hit some big weather. The major decision will be whether to take the Northern Route via the uninhabited Suvarov, or the Southern Route via popular Rarotonga. The next web site will reveal the answer!

We just got word from Latitude 38, the San Francisco sailing magazine that has become the cruiser's bible, that our huge article on the Puddle Jump has been published nearly in its entirety in the September issue. We are hoping to have a copy shipped in to some exotic locale, so we don't have to wait until New Zealand to see how our opus turned out!
Love . . . Signe & Jan
This page was last updated on 04/13/04.