Baja and the Sea of Cortez

Heading north again
May 3, 2001

Greetings from Bahia Aqua Verde in the Sea of Cortez where we are sitting out a weather system that is bringing wind gusts to 30 knots here in the anchorage, no sun and no warmth either. I can just hear you all saying, " Aw, poor babies!" But this is an ideal opportunity to catch you all up on our adventures for the past few weeks.
Pacific-Crossers

We are backtracking on our steps a bit, but also discovering some new territory in the Sea of Cortez. We dragged ourselves away from Puerto Vallarta on April 6th after watching many of our friends leave for the Marquesas. At least 50 boats left from Puerto Vallarta, and many more went from Acapulco, Mazatlan, La Paz, San Diego, and so on. The word on the radio nets is that at least 150 boats left to cross the Pacific this year.

It was quite emotional seeing people we had been sailing with for ten months sailing off on The Big Adventure. We have continued to receive emails from them all the way across and listened to them on the radio networks. They have all made it, including our friends Ken and Cathy on one of the slowest boats, Felicity, who made it to Hiva Oa (the first island you come to in French Polynesia) after 'only' 25 days at sea (they expected it to take 30 days!). Here is Cathy's top-ten list of things they were looking forward to after 20 days, with five days still to go before they had any hope of attaining them.
10. Ice cream and cheeseburgers
9. Not having a safety harness as an everyday wardrobe accessory.
8. The end of the daily inspection of rotting, fuzzy, and smelly produce we're trying to keep fresh un-refrigerated in the tropics.
7. Being able to place something on a counter and be relatively secure in the knowledge that it will still be there if you turn away for ten seconds.
6. Sleeping for more than four hours at a time.
5. Having the ability to throw out plastic garbage, instead of washing, drying, and storing it.
4. Being able to walk through the boat without holding on to every handhold like a brachiating chimpanzee.
3. Allowing the bumps and bruises to heal from not religiously adhering to #4.
2. Ability to sit in the head without using advanced Yoga positions to remain stationary and avoid being launched from said position.
1. Dry land

And Jan wonders why I'm not jumping onto the crew list for the Marquesas!!!
Chacala

So back to our own Little Adventure. Outside of Banderas Bay we spent a few nights anchored off the beach at Chacala. When we were there in December, it was a sleepy little fishing village with a few hundred residents. Someone mentioned at the time that it comes to life during Semana Santa, Holy Week before Easter. Guess when we were there? They were expecting 10,000 people to hit the beach during the holiday weekend. There are no hotels, no paved roads, one tienda (small store) and a couple of palapa restaurants and that is IT. To make up for that lack, each family brings a tent and they build a dense wall-to-wall tent city, tapping into the overhead power lines if necessary. Then to provide food, beach balls, T-shirts and other life necessities, vendors come from miles around to set up small palm thatched structures. They sell everything from roasted corn and chicken to beach sandals, to souvenirs made of shells, to tortillas to toilet paper. Amazing!

On the beach, all the kids were in the water in big waves that would have made any American mother flinch. Forget lifeguards! Beach vendors had set up shop to provide for the snack craving that was definitely going to hit all those bathers. There were pineapple and mango sellers. They put the mangos on a stick and carve them to look like flowers. The pineapples are cut, hollowed out and filled with drinks. The coconutman whacks off one end of the nut with his machete to get to the liquid,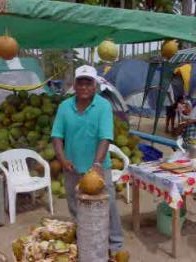 Chacala coconut vendor 1 (358K)
and then he gives the customer a straw to drink it.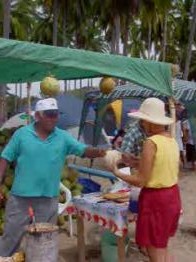 Chacala coconut vendor 2 (443K)
When that is finished, he cuts into the inner meat and puts the pieces of coconut meat into a baggie with salt, lime juice and chili pepper. We always think of coconut meat being sweet. They serve it piquin or spicy. Actually, it was quite tasty that way. Next we watched the candy and nut seller trundle his cargo down the beach in an orange wheelbarrow. Farther down

the beach, some teenagers had set up an impromptu dance club. If you think US teens have raging hormones, it is even more overt in Mexico. We just had to sit at a beach palapa with a Corona and watch it all happening.
San Blas and Isla Isabela
Ever northward, we pushed on to San Blas, a new harbor for us. We had avoided it before due to rumors of biting bugs and a complicated check in process with the port captain. We avoided the Capitania by staying less than 24 hours. We foiled the bugs by putting up all our screens, sealing all the Dorade vents with rags, and staying "locked down" after the sun set. Not a very exciting way to go, but those "no-see-'ems" are vicious. One cruiser took his dog ashore for a few minutes and got 68 bug bites. Yow!
We made a brief, rolly stop at Isla Isabella, the nature preserve we had explored last fall. The seas were too wild to go ashore, but we did have the added adventure of having the local fishermen surround our boat with their nightly set of nets. After a short discussion and gifts of cervezas, we got the idea across that we would be leaving early the next morning. "No problema, amigo!" said the pescadero. And there wasn't. The cerveza and friendly discussion had worked. The floats, nets, and anchors made of rebar were all gone by the time we woke up at 6 a.m. The Mexicans are great!
Mazatlan
We were able to harbor hop up the coast due to Raven's fine speed, an asset we have grown to love. Other people are doing overnighters and we can get to the next port all in the same day. We had a bit of a thrash as we approached Mazatlan with six-to-eight foot seas and seventeen knot winds with a reefing down of the sails, but it was nothing Raven couldn't handle easily. The First Mate, though, just wanted to get there, pleeeez!! When we finally got to the entrance to the marina channel, there were rollers breaking across the entrance, not a good sign. We had heard radio reports that it was calm once you got past the entrance bar. We took deep breaths and went for it, having to make a hard left turn immediately inside the breakwater, and then squeeze past the dredge that, mercifully, had quit for the night. It wasn't our calmest arrival, but we made it to the dock safely.
Mazatlan was also enjoying Semana Santa. This time there were even more hormones raging, this being the Mexican version of Spring Break. In fact, there were pickup trucks full of teenage guys cruising the streets with mega-boom boxes playing salsa music. Good music, mind you, just loud! They were trying to attract the girls simpering along the sidewalks in their best skimpy, tight, come-hither garb. Well, we felt obligated to sit and watch that parade for a while, too. Great anthropological research!

After a day or two of all this excitement, plus a few fun dinners in town with cruiser friends, a good weather window suddenly opened for sneaking across the Sea of Cortez. Knowing The Captain as I do, I had insisted that we do a spot of extra provisioning to be ready for any occurrence. Remembering the fun time we'd had on Thanksgiving, we'd planned to attend the big cruiser dinner and dance Easter Sunday. But when calm weather beckoned, Raven and a dozen other boats took off immediately for the 200+ mile crossing to La Paz.
There was a small moment of excitement at the departure from Marina Mazatlan when Jan left me on the dock! We were both intent on avoiding a big, dangerous, rusty steel bracket that stuck out of the dock, and I stood on the dock to push the Raven out far enough to miss being damaged. Then the wind took over and pushed her out just far enough that I couldn't do my usual death-defying leap to get aboard. There I was, all alone on the dock. I figured Jan had finally had enough of my cooking. There was

no way he could bring Raven back in to pick me up because of The Rusty Object, the wind, and two major pilings blocking the route. But friendly cruisers are always ready to help, and a neighbor couple delivered me safely back aboard Raven in their dinghy. I clambered up the side, just like a ship's pilot climbing on the big freighters at sea. I'm sure they are still talking about those amateurs who should never be allowed to have such a big boat.
Crossing the Sea of Cortez
We made the overnight 240+ mile passage across the Sea with nice, steady 8-to-15 knot winds from the north. We motorsailed all the way, making an average speed of 8¾ knots. It was a long passage — 28 hours — but we made it without doing two overnighters, which most of our friends had to do. My only problem was that I was comparing it to our lovely November crossing in the other direction, not factoring in going against the wind and going farther across to get to the islands north of La Paz. I was ready to be there after 18 hours, so I was definitely cranky after 28.

The big activity of the crossing was to chase away the Blue Footed Boobies who were trying to cadge a ride. Every time Jan would chase them away, they'd circle the boat a couple times, make a very delicate landing on the moving target of the life lines, do a little projectile pooping on deck to let us know who was boss and wait for Jan to reappear. At least it gave us something to do! We also had one determined fellow who decided that our masthead wind indicator really looked good to eat. You should have seen him trying to grab it as it whipped past. It is a fairly key piece of equipment, so Jan finally had to chase that guy off with an air horn. They don't call 'em boobies for nothing!
Caleta Partida

Finally we arrived at Caleta Partida on Isla Partida on Easter Sunday. We couldn't get over the dramatic change from the mainland. The huge bay is a collapsed volcanic crater, with rock walls of a continuously changing palette of colors, very much like being anchored in the Grand Canyon. The water was brilliant turquoise. All of a sudden we were in hot, dry desert conditions, after months of jungle and high humidity.

Caleta Partida has no town, no houses, and just a few deserted fishing shacks. Our big activity was watching The Pelican Artillery. (Admittedly, we were catatonic after a nearly sleepless overnight crossing.) Hundreds of them spent their days dive-bombing the fish in the shallows. The pelicans fly in a big circle over the water, and when each one comes into range, he folds his wings and drops straight down into the water at high speed. There were so many birds that it sounded like a waterfall crashing into the sea. How do they spot the fish underwater? How do they avoid breaking their necks plunging into the shallow water? How do they avoid colliding with each other? How do any fish survive? It's all a mystery to us.
We were able to assist some panga fishermen camping in very rough conditions in the bay by filling their water barrels from our tanks. This has continued to happen as we cruise the islands of the Sea. We're not sure whether word is passed via the Pescadero Grapevine that Raven has water to share, or whether they just know the big boats have watermakers. Whatever, we're happy to have something we can give these nice people.
La Paz

After a few days, we decided to go into La Paz to explore and make some phone calls. On the way in, we suddenly realized that there was an airport in La Paz and, with a little bit of luck, I might be able to fly out and go to the April 23rd wedding shower in San Francisco for Paul and Michelle. I was afraid to get my hopes up on being able to get a ticket for a flight the next day, but we did it! I had to fly Aero California (who?), stopping in Hermosillo (where?) and LAX with another flight to Oakland, but it was definitely worth it. I got to spend some quality Mother of the Groom time, seeing the invitations, the bridesmaids dresses, the flower girl dress, the ring pillow, Paul & Michelle's friends at their shower and just enjoying having such a wonderful son and future daughter-in-law.
Meanwhile, there was a big storm expected in La Paz, so Jan stayed with the boat, doing messy projects all day and going out for dinner with friends. He finished a zillion little projects and did a few he knew I wouldn't tolerate being around for, like changing the sewage hoses (Yuck!), and pulling up all the floor boards for three days to get at the leak in the bilge. His consolation prize was discovering the Super Taco Baja California Hermosos Gonzalez street stand with " the best fish tacos in Mexico," plus fabulous shrimp and lobster tacos. He found the famous ice cream store that all the cruisers talked about too. The zarzamora (blackberry) cone even won out over chocolate. Happily, he shared all this bounty with me when I got back. Yum!
La Paz is Cruiser Central for the Sea. There are lots of boats here that use it as their home base, and some who never even leave the town. It was a whole different fleet of boats that we had never met or heard on the radio. All the necessary services are available — lots of marine chandleries and hardware stores, grocery stores, US newspapers (Jan was thrilled), laundries, even dock carts. The supermarket had things I hadn't seen in ten months. It was very reminiscent of searching Paris for peanut butter, when I found bagels, English muffins, cherry pie filling, and Breyers strawberry ice cream. OK, I know we should be going fully Mexican in our diet, but sometimes there are a few little goodies that we crave.
Islands North of La Paz
After my return from San Francisco, we headed north to the islands. There is lots of good snorkeling, hiking, exploring little coves by dinghy, shelling etc. We are wishing we had brought our little red kayaks, but Jan thinks it's too dangerous to have them on deck at sea.


At Isla San Francisco, the seagulls were in full nesting mode. We had to endure some serious dive-bombing to walk past them and their nests and chicks. Because there are no natural predators on the islands, they just set up housekeeping in any old indentation of sand and line it with weeds. They blend into the beach so well that the brown speckled eggs are almost impossible to see until you are right next to the nest, or the gull dive bombs you, whichever comes first. I don't think we did any serious

environmental damage, but it was quite an experience. On the same island we found a shell beach with Papershell Nautilus and even a weird Half-Naked Pen Shell (I am not making this up. That's what it's called in my shell book).

We dinghyed out to little Isla Coyote, ten houses on a rocky outcrop in the middle of nowhere. The fishermen were cutting up a big manta ray that they had caught. It was a spectacular location, but a long way to go to get even the most basic of services, like water and food. We took them two five-gallon containers of water, which seemed to be appreciated.
In Puerto Los Gatos, Manuel, the local lobster fisherman, greeted us in his panga. All the cruisers know this guy, and true to form he asked how many lobsters we wanted for dinner. We got a bit carried away and ate lobsters for three meals straight. Had to invite guests the next night to finish them off. It's tough out here, but somebody has to do it.

We continue to have plenty of potluck dinners with other cruisers. Last night, some cruisers bought red snapper, huachinango, from the fishermen and we had barbecued fish on the beach, followed by guitar music and singing. It was pretty idyllic. One of the best songs was called "Three Days Out and Forty-five Knot Wind

Blues." (We've all been there!) Then there are always games of Mexican Train Dominoes if things get slow. They don't usually, except when everyone is sitting out a weather front, like we are today.
We're on the home stretch now. We will be in the Sea of Cortez for a couple weeks more. Then on May 18th, I will fly from Cabo San Lucas to Tacoma via San Francisco (Do you sense a trend here?). Meanwhile Jan and a crew of cruising friends will take Raven on the Baja Bash, a nasty slice of water from Cabo to San Diego, going upwind and uphill all the way. He is already charting it all out in preparation. Hopefully they will get some good weather windows and not get too bashed on the Bash.

Love, Signe
PS. The rain finally came, or at least what passes for rain here, leaving a strong smell of Eau de Damp Desert and a very dirty boat. There is a big black line of clouds moving away from us and there is sun shining on the rock formations, so perhaps the weather has passed. Maybe we will be moving on to Puerto Escondido (Hidden Port) tomorrow.